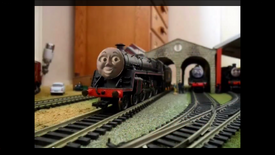 Terry
Number:73082
Class: BR Standard Class 5
Designers: R. A. Riddles
Configuration: 4-6-0
Withdrawn: 1966
Terry is a preserved BR Standard Class 5.
Bio in the Series
Terry taught William a lesson after showing him who is boss.
Terry likes football so much that he grumbled about it to the other engines. But soon learned his lesson after an accident. He grew more matured and helped Jimmy's wish come true with the help of Arthur. Coming from Liverpool he knows the famous band, "The Beatles".
He had trouble with Black 5 twins Richard and Roger as their classes had rivalries of whoever is better and ultimate. After Richard had his accident, Terry helped him back onto the track. After being scolded by the shed master, the twins now became firm friends with Terry. During Christmas, Terry and the other engines grumbled because William had his lack of Festive Spirit. Feels happy in the end. In New Years he was relieved Babs the Brave saved Rob from a bomb.
Terry supported Roger when he was thought to be a death engine. Terry was very close to the twins and helped the two get back together. He was present when told his story on how he became Arthur.
He and William were fooled by Den's lying but soon raised from the situation. He despised John the 3F when he first arrived but soon raised from the situation when John got his comeuppance thanks to Den.
Basis
Terry is based on the preserved BR Standard Class 5 73082 Camelot. In 1966, the engine was sent to Woodham Brothers for scrapping. She languished at Barry Docks until 1979 when purchased by the 73082 Camelot Locomotive Society, and moved to the Bluebell Railway for restoration alongside Battle of Britain Pacific 34059 Sir Archibald Sinclair. She returned to steam in 1995 after a protracted overhaul at Sheffield Park and put in almost ten years of service on the Bluebell until withdrawal for overhaul in June 2005. She underwent an overhaul and returned to steam again in 2014. She is also the current survivor with a BR1B tender.
Appearances
Gallery
Ad blocker interference detected!
Wikia is a free-to-use site that makes money from advertising. We have a modified experience for viewers using ad blockers

Wikia is not accessible if you've made further modifications. Remove the custom ad blocker rule(s) and the page will load as expected.