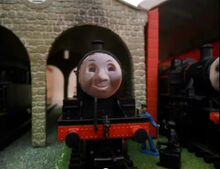 Rob, not to be confused with Robin is a tender engine.
Rob is a Somerset and Dorset 7F 2-8-0 tender engine who made an apprentice in Festive Spirit at Christmas time in 1963 he arrives for Christmas at the sheds after bringing the circus train into London.
Trivia
The engine carrying Rob's number, 53809, is currently preserved at the Midland Railway in Butterly.
Ad blocker interference detected!
Wikia is a free-to-use site that makes money from advertising. We have a modified experience for viewers using ad blockers

Wikia is not accessible if you've made further modifications. Remove the custom ad blocker rule(s) and the page will load as expected.