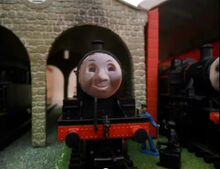 Rob, not to be confused with Robin is a tender engine.
Rob is a Somerset and Dorset 7F 2-8-0 tender engine who made an apprentice in Festive Spirit at Christmas time in 1963 he arrives for Christmas at the sheds after bringing the circus train into London.
Trivia
The engine carrying Rob's number, 53809, is currently preserved at the Midland Railway in Butterly.
Rob was involved in an accident in 1959 at Two Tunnels, Bath, where he crashed into the back of a freight train after his crew passed out from lack of sufficient ventilation, and part of this was due to him being fitted with a larger boiler when built for unknown reasons, but re-entered traffic with a standard Midland Railway boiler like that of Midland Railway no. 1000, and the rest of the five Newcastle built 7Fs were modified to prevent accidents like 53809's ever again.
Rob was one of two SDJR 7Fs bought from Barry scrapyard, the other 7F being his 'predecessor' of sorts, 53808.
In real life, Rob was mainline certified in the 1980s, being the first 7F to be used for such a duty since the last of his brothers were condemned for scrap in 1964.
Rob's brothers were said to do sixty miles per hour in service days.
The 7Fs were often used for piloting the 'West Country'/'Battle of Britain' Pacifics of the Southern Region over the Somerset & Dorset Region with such trains as the 'Pines Express' in the 1950s, as their adhesion wasn't very great for hill-climbing below twenty mph.