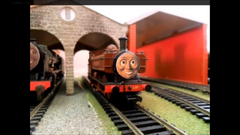 Paddy
Class: GWR 57xx 0-6-0PT
Designer: Charles B. Collett
Builder: North British Locomotive Company
Configuration: 0-6-0PT
Paddy is a Great Western pannier tank engine.
Paddy worked at the London underground before visiting Euston as a replacement station pilot to take over Jimmy's work due to him being away.
When Jimmy returned, there had been many unfortunate events resulting in Jimmy being ignored, but the problem was then resolved.
Paddy is a Great Western pannier tank engine. Nicknamed Paddy from his days as station pilot at "Paddington" station. Paddy knows how to hold his own and tends to stand for no nonsense from any engines that might get ideas above their station and try to order him or others about. He likes things to run like clockwork, without fuss, and is a very efficient, loyal engine. He takes tremendous pride in the responsibilities bestowed upon him, particularly in his role of running as station pilot. A duty he misses dearly from his time on the GWR. Paddy is often kind hearted, very friendly and willing to give out wise advice. He will often support the underdog, stick up for his friends, and help others see the error of their ways. He has earned the respect of the engines and has firm friendships with them.
Paddy is a Great Western Railway 57xx 0-6-0 pannier tank.
Paddy is painted in London Transport maroon livery which is a similar livery originally worn by the LMS Duchess', Patriots, Jubilees and Royal Scots.
Appearances
Edit
Paddy is the first Great Western engine to arrive at Euston.
Ad blocker interference detected!
Wikia is a free-to-use site that makes money from advertising. We have a modified experience for viewers using ad blockers

Wikia is not accessible if you've made further modifications. Remove the custom ad blocker rule(s) and the page will load as expected.