This article is about the character. You may be looking for the episode.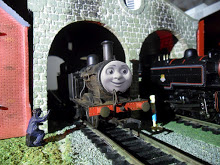 Jimmy
Number: 47324
Class: LMS Fowler Class 3F
Designer: Henry Fowler
Builder: W. G. Bagnall
Configuration: 0-6-0T
Jinty, better known as Jimmy, is a London Midland and Scottish Railway (LMS) Fowler 3F 0-6-0T, nicknamed Jinty. 
Bio
Jimmy the Jinty is the station pilot at Euston station. Euston station was constantly busy, welcoming top link express trains such as "The Royal Scot", "The Irish Mail", "The Mid-Day Scot" and "The Shamrock" into London. Jimmy is an important link in the chain that helps run a railway efficiently. He shunts and collects the coaches from the platform and puts them in their proper places. Sometimes, during the holiday season, Jimmy needs some assistants. It was common place for locomotives that brought in a train to shunt their own coaches away if a station pilot was not available. 
Persona
Jimmy is a happy, cheerful and bubbly character. He used to be nicknamed Jinty, like so many of his classmates but was renamed Jimmy after the shed master who looks after and watches over the engines of the sheds. Jimmy proved how much of a hard worker he was when he stepped in to pull William's commuter train when he was trapped by broken points. Jimmy is very popular with the other engines due to his positive personality and attitude towards life. He is always on hand to cheer another engine up and brighten their day. Some engines, (mostly William) see Jimmy as the child of the sheds because of his small size, but Jimmy has proven he is far from childish when he has put William in his place from time to time. Jimmy also has an interesting past connected to the Island of Sodor. Jimmy knew Percy when they were first built. They were having finishing touches applied to them when the Fat Controller came to buy Percy for his railway.
Trivia
According to dcg12b, Jimmy's number is 47324. However, his model is 47266.
Gallery