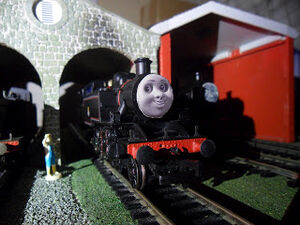 Ivatt
Number: 41241
Class: LMS Ivatt Class 2 2-6-2T
Designer: George Ivatt
Builder: Crewe Works
Built: Sometime between 1946 and 1948
Configuration: 2-6-2T
Ivatt is a London, Midland and Scottish Railway (LMS) Ivatt Class 2 2-6-2T.
Bio
Ivatt is named after his designer and he is very proud of that. The cleaners have been known to call Ivatt by his nickname, "Mickey Mouse". This is because he is small, light weight and quick off his wheels. Like Robin, Ivatt doesn't mind his nickname but he much prefers to be called by his proper name. 
Persona
Ivatt is a polite and caring engine and like William, he pulls passenger trains in and out of Euston station. Ivatt did have a tendency to be shy and reserved. But this was soon put right when he was able to help out at his old home in the Somerset and Dorset region for a couple of weeks. When he returned he was more cheerful and confident in his surroundings. Ivatt was soon able to stand up for himself and he was overcome with joy when a relative of his class, Robin the Ivatt Mogul, came to live at the sheds. 
Gallery