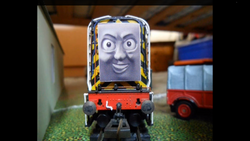 Den
Class: BR Class 08
Designer: British Railways
Number: D3258
Builder: Crewe, Darlington, Derby, Doncaster, or Horwich Works
Configuration: 0-6-0
Speed: 15-20 mph
Den is a devious diesel shunter.
Bio
Den first arrived at Euston when Ivatt went away and was troublesome.
He once learned never to work with animals again.
He despises steam engines and knows that they will be banished from British Railways. But he has been over thrown by many engines, once by Richard, Babs and Arthur. Another time by Babs and on his worst mistake, by all the engines.
He wanted to be station pilot but was once again beaten by Ivatt and Paddy.
Persona
Den is, in essence, the average pantomime villain. He is oily, malicious, devious, scheming and full of ideas to get revenge. It appears Den has a good side in him, but one would still have to look deep to find it.
Basis
Diesel is a BR Class 08 0-6-0. Over one hundred members of this class survive today in preservation. They were in fact the most successful shunting engines in the world, with 996 of them built.
Livery
Diesel is painted in BR Brunswick Green livery used by British Railways for shunting engines in the 1950's. His side rods are also red.
Appearances
Trivia
Den is the first diesel to arrive at Euston.
Gallery