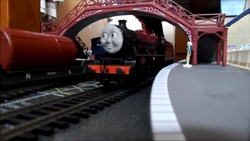 Australia
Class: LMS Jubilee Class
Designer: William Stanier
Builder: North British
Built: Aug. 1934
Configuration: 4-6-0
Number: 45563
Withdrawn: Nov. 1965
Australia is a Jubilee with Fowler tender.
Bio
Australia was one of the 191 Jubilees, however he hated his name and he was jealous of the other Jubilees names and he had a Fowler tender while most of the others had Stanier tenders. One day Australia refused to take his express train in the end another engine took his train and he was left at the shed. Then another member of his class Leander went to the shed and tells Australia that he was a disgrace to his class and that he doesn't deserve to have a name and soon his name plate was removed and Australia had to work hard for it if he wanted it back. Again Australia was the teased by the others.
One day during World War II, Australia was waiting in the shed when the yard manager arrived and told him that an engine pulling a goods train had burst a cylinder and Australia has to take the engines goods train. Australia didn't want to until the manager told him if the train wasn't moved the evacuation train would be delayed. After hearing this Australia didn't hesitate twice and left. During the war Australia worked hard and did ot complained again. After the war he was no longer a selfish engine. He got his nameplate back and he now wore it with pride. A few years later, Australia told his story to Arthur who told the other engines at Euston.
Australia seems to have been allocated to Euston for quite awhile up until the 1950s as he was seen when Arthur first came to the sheds after the war and when Engine 17 was destroyed.
Persona
Australia used to be selfish and stubborn engine. He didn't appreciate his nameplate, however Australia now is a brave and determined engine who always shows respect to his name.
Basis
Australia is based on the real life LMS Jubilee 45563 Australia which was built on January 1936 and withdrawn on November 1965. The real life engine was not preserved but four of its brothers and sisters were preserved.
Appearances
Triva
Gallery